010 PCW Christmas Show
Hack's Rusty Nail Saloon
Wauseon, Ohio
Taped Wednesday December 23rd, 2010
Host: Johnny Suave
OPEN
"PCW…PCW!" chants the crowd as Johnny Suave welcomes everyone to the 2010 PCW Christmas Extravaganza. "I am Johnny Suave," he says. He points to the appropriately Christmasy dressed life-size cardboard cut-out of Shania Twain. "And if this ain't a vision of Christmas I don't know what is."
The crowd agrees.
The bar and the ring are covered with Christmas decorations which immediately bring out…
…the Green World Order. The crowd boos as PeaceNick and GreenPete, Peta from PETA, and Vegan Brock Cole Lee come out to the ring. Suave says he has a feeling his Christmas spirit is about to get sucked right out of him. PeaceNick gets on the mic and screeches: "WE'RE CHANGING EVERYTHING!"
More boos.
PeaceNick complains about the Christmas decorations and says it's insensitive to non-Christians. Peta from PETA chimes in about cutting down 'poor, innocent pine trees' by ax-wielding murderers to be used as Christmas trees. "How would you like it if someone chopped your feet off and drug you home and put ornaments and lights all over you?"
"I'm game!" someone shouted back. Peta responds 'y0u're sick' and demands that the Christmas décor be removed.
This brings out…
Bill O'Reilly
…O'Reilly first complements one of the waitress in Hack's who's dressed in a sexy Santa outfit complete with a mistletoe necklace and green and red fishnet stockings. The crowd bows down and chants: "We're not worthy!" "I don't think so," O'Reilly tells the GWO. "I'm standing up against this War on Christmas. If you
pinheads
don't like the Christmas decorations, there's the door and don't let it hit you on your ass when you leave."
"I completely agree!" The crowd turns; it's…
'The Alaskan Pitbull' Sarah Palin (R)
Palin receives a standing ovation from the crowd. This infuriates Peta who again demands that Hack's take down all the Christmas decorations…or else.
This, of course, brings out Politically Incorrect in the guise of Santa (Nic) Koteen and his 'elf' Al Cahall. Koteen carries a huge bag of goodies over his shoulder into the ring. "HO, HO, HO," he bellows. "And no, I'm not talking about you, Peta."
Peta becomes offended and orders the GWO to attack. PeaceNick confronts Koteen and gets belted in the head with the bag of goodies. GreenPete tries the same thing and gets a face-full of bag of stuff as well. Brock Cole Lee gets the same treatment. Koteen and Cahall get an 'evil' grin as they zero in on the last remaining member of the GWO in the ring- Peta. Peta tries to beg off and slip out of the ring. Palin grabs her by the collar and yanks her back in. She turns to Santa Koteen and says Peta's all yours, boys. Peta is pushed into the waiting arms of Koteen. "Ho, ho, ho!" he bellows again as Cahall scoops up Peta and carries her over his shoulder. "Put me down!" Peta screeches. She beats on Cahall's back as he takes her out of the ring up to a wooden support beam just off the stage.
"We'll get back to that in a second," Suave announces. "But, we have a song that's supposed to play."
GreenPete comes to and sees Peta outside the ring. Koteen and Cahall have her duct taped to the support beam and are now decorating her with Christmas ornaments and lighting. He starts throwing a fit. Cahall places a Christmas Angel on the top of Peta's head. GreenPete grabs a mic and tells everyone that he's finally realized the only way to defeat extremism is to be just as extreme. He challenges Politically Incorrect, Koteen and Cahall oblige and we have an impromptu match.
MATCH #1
GreenPete and PeaceNick w/Brock Cole Lee of the Green World Order (D)
vs.
Politically Incorrect: Nic Koteen and Al Cahall (Tea Party)
GreenPete starts along with Nic Koteen. GreenPete immediately rips off his Green World Order t-shirt and wraps it around Koteen's neck. "Okay. That's not a pacifist way of dealing with things," Suave observes.
GreenPete uses the shirt to whip Koteen through the ropes onto the floor below. He then takes the Santa bag full of goodies and beats him over the head with it over and over. "That's definitely not a pacifist way either," Suave says.
Al Cahall tries to intervene but GreenPete swings the heavy bag and clocks Cahall in the face. Brock Cole Lee comes over and throws Cahall off the stage and through a front row table. "That's MOST definitely not a pacifist way," Suave says.
GreenPete grabs a strand of Christmas lights and wraps it around Koteen's throat. "Okay, he's snapped," Suave says. "This goes beyond extreme!" The referee comes over to break the hold. Greenpete flings him into the ring steps. Horrified, PeaceNick tries to intervene. He tells his partner that this is 'not the right path.' GreenPete tosses Koteen to the ground and sticks his foot on his chest. A second referee races out and counts out Koteen.
WINNER: GREENPETE AND BROCK COLE LEE @ 3:11

After the match, GreenPete untapes Peta from the support beam. He and PeaceNick argue about the 'extreme' measures GreenPete took to defeat Politically Incorrect as they walk back to the locker room.
MATCH #2
Andy Riley (D)
vs.
Josh Jackson (R)
Arianna Huffington leads Riley out to the ring. 'The Mastermind' Karl Rove accompanies Jackson ringside.
The bell rings and the match isn't five seconds old when GreenPete and Brock Cole Lee of the Green World Order jump The Mastermind outside the ring. Jackson is momentarily thrown off which gives Riley a free shot at him from behind. Riley shoves Jackson into the corner turnbuckle and bounces his head off the steel ringpost. GreenPete throws a table into the ring and he and Brock Cole Lee drape the dazed Jackson across it. They tell Riley to climb to the top. He does and leaps off, putting Jackson through the table. Riley covers and gets the win.
WINNER: Andy Riley @ 3:30
Suave can't believe it. He notes that it looks like the GWO is going to rampage through PCW tonight.
John Boehner's (R) New Office
The Mastermind stumbles back to Boehner's office. The incoming leader of the PCW Competition Committee sees Rove and wonders what the **** is going on out there? Rove explains that the radical left are trying to take over the show. Boehner says he'll put a stop to it right now. He dials the phone and calls Nancy Pelosi.
"Hello…Nancy? John Boehner! Look, do you mind controlling your left-wing extremists?……What? What do you mean you don't have time for this…hello…HELLO?" Boehner slams down the phone.
Suave: "Well, that didn't go very well now didn't it?"
*MUSIC- whale song over a Ritchie Havens tune*
All four members of the Green World Order (GreenPete, Peta from PETA, PeaceNick, and Vegan Brock Cole Lee) and their attorneys come out.
Brock Cole Lee says he'll tell everyone again, the Christmas decorations are offensive to those who are not Christians. Lee says he'll ask nicely just one more time for Hack's Rusty Nail Saloon to please remove the offensive display immediately. Lee then drops a bombshell- he went ahead and procured an injunction against the bar to protect the rights of those who are offended by religious displays and who don't want it shoved in their face.
*"CAUTION! YOU'RE IN A NO-SPIN ZONE"*
Fox News's Bill O'Reilly comes out.
O'Reilly tells the GWO he's sick and tired of the war on Christmas they are waging! Lee wants to know what O'Reilly's going to do about it and waves the injunction around. O'Reilly waves to the back and Politically Incorrect- Nic Koteen and Al Cahall come out.
Lee says that not only does he have a piece of paper that says that cease and desist, I've got the man who's viewership has doubled over the year on my side (Felcher waves to the back) Come on out, Keith.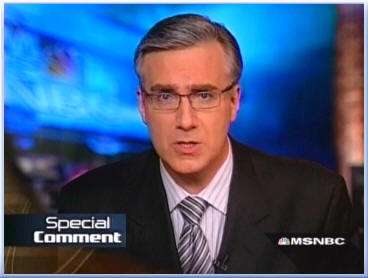 Keith Olbermann
Keith Olbermann, O'Reilly's arch-enemy, comes out.
O'Reilly isn't fazed. He says Olbermann has one-third of his audience.
Then Peta from PETA and GreenPete drag out 'The Alaskan Pitbull Sarah Palin who has a garland wrapped around her neck.
O'Reilly becomes incensed and calls it another blatant cheap shot against Palin. He rushes Olbermann and a referee calls for the bell.
MATCH #3
Brock Cole Lee and GreenPete w/PeaceNick of the Green World Order and Keith Olbermann of MSNBC (D)
vs.
Politically Incorrect: Nic Koteen and Al Cahall (Tea Party) and Bill O'Reilly from Fox News (R)
Nic Koteen brings a toy box full of weapons to the ring. Al Cahall and GreenPete start in the ring. Peta continues to choke out Palin with the garland. The Alaskan Pitbull falls to the floor. O'Reilly and Olbermann brawl on the outside and Koteen opens the toy box. In the ring, GreenPete takes control with an elbow drop and a dropkick. Cahall hits a reverse DDT on GreenPete. Koteen grabs some lights out of the toy box and wraps a strand around Brock Cole Lee's neck. Kick by Cahall.
Peta from PETA handcuffs Palin to the bottom rope and goes to get a chair.
Suave wonders what's going on.

Yamamoto Tanaka and Reika Kisaurgi (D)

Suave: "TANAKA AND REIKA?" He recaps the major screw job on Tanaka by fellow Democrats Triple R and 'The One Man Hollywood A-List' Stone Chism at PCW Extreme Election Night and how he's been on a path of destruction since.
Suave: "WHAT IS HE GOING TO DO?"
Tanaka runs down and clotheslines Peta from PETA just as she's ready to plaster Palin with the steel chair.
Suave: "HOLY CRAP!"
Brock Cole Lee runs over to Tanaka. Tanaka stops him with a kick to the midsection. He then empties out the toy box and dumps the box over Ruff's head. Tanaka picks up the chair and crushes it over the box. Lee's out. Peta tries to get a cheap shot in but Tanaka grabs her and powerbombs her through the bellkeeper's table.
Suave: "HOLY CRAP! TANAKA'S TURNED! TANAKA'S TURNED ON THE DEMOCRATS!"
Koteen puts the remnants of the toy box over GreenPete's head and DDT's him. Koteen wraps his fist full of Christmas lights and dives on top of GreenPete, crushing the glass lights in his forehead.

Triple R (D), 'The One Man Hollywood A-List' Stone Chism (D) w/'The Genius' Stephen Hawking
Triple R slingshots himself into the ring and lands on Koteen. Chism attacks Tanaka. Tanaka picks him up by the throat and throws him across the floor. Tanaka pulls out a ladder and sets it up on the ring steps. Exploder suplex into the ladder by Tanaka.
Suave: "HOLY CRAP!"
Tanaka unlocks Palin's and she immediately goes after Olbermann. She jumps on his back and starts choking him. Olbermann staggers backwards and crushes Palin against the ladder. O'Reilly dives at Olbermann and splashes him into the ladder.
Triple R goes for a half-nelson half-tiger suplex; Koteen reverses and flings him over the top rope. Tanaka whips Triple R into the ladder! Cahall rolls out of the ring. GreenPete follows and goes for his through the 1st and 2nd rope swinging DDT, but Tanaka pulls up a barricade and GreenPete gets a face full of steel. He's busted wide open. Koteen pulls the ladder in between the barricade and the ring (propped up) and bombs GreenPete into the barricade in the corner. He now pulls out a table and sets it up ON TOP OF THE LADDER!
Suave: "WHAT IS HE DOING?"
The ladder is bent and looks very flimsy! Koteen hits his finisher 'The Smoker' on GreenPete and puts him through the table and ladder.
Palin pulls up Peta from PETA, puts her over her knee, and spanks her.
Peta: "THAT'S CORPORAL PUNISHMENT! YOU CAN'T DO THAT! IT'S ILLEGAL!"
Tanaka throws Brock Cole Lee back into the ring. Koteen makes the cover. 1…2…3.
WINNER: Politically Incorrect @ 14:25
Suave: "THAT'S GOING TO DO IT! PCW WISHES EVERYONE A VERY MERRY CHRISTMAS AND WE'LL SEE YOU IN 2011!"